AcceptDebtPayments.com – Debt collection payment processing
At AcceptDebtPayments.com, we have one goal: help debt collection companies, large and small, with credit card processing payment gateways that are cost-effective and simple to manage.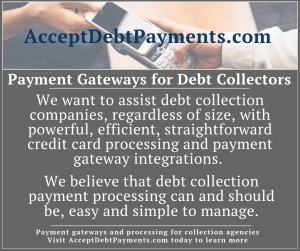 We know that starting a collections business and collecting on debts can become confusing, with various roadblocks and red tape along the way. It's our belief that the payment gateway and merchant account piece doesn't have to be this way. The ability to process credit cards easily should be straightforward when you're running a debt collection agency – and we're here to make that happen.
Collection agencies need a reliable way to accept credit cards without their processing fees eating away their margins. If you need debt collection merchant services that work better for your business, or a payment gateway that allows debtors to pay their bills online, you've come to the right place.
As a debt collection agency, money is your business. It's our business to ensure that you can collect and process that money in the smoothest, most cost-efficient way we possibly can for you.
With us, you'll get payment gateway services that work with your collection agency's existing software platforms or website. Not only that, but with our services, adding simple "pay your bill here" buttons to nearly any existing site will be quick and simple, making it much easier to collect debt payments online. Lastly, if you simply want to be able to take debtors' payments by phone, we can help with that too.
Collection agency credit card processing
We offer credit card payment solutions for collection agencies with a focus on simplicity and fairness. Having been in the high-risk merchant accounts and payment gateway industry for many years, we know exactly what support you need in the debt collection industry.
You can't have your debt collection payment processing affecting profit margins at unnecessarily high rates. When you reach out to AcceptDebtPayments.com, we'll pair you with a merchant account that is the best possible fit for your business model, workflow, and technology.
Supported industries for debt collection payment processing
We support and assist a wide range of specialist debt collection businesses with their gateway and virtual terminal needs. Among the industries we support are:
Legal judgment collection
Third party debt collectors
Accounts receivable
Contractor supplier/Tradelines collections
Auto collections
Bill Collectors
Add an online payments page or button to your existing website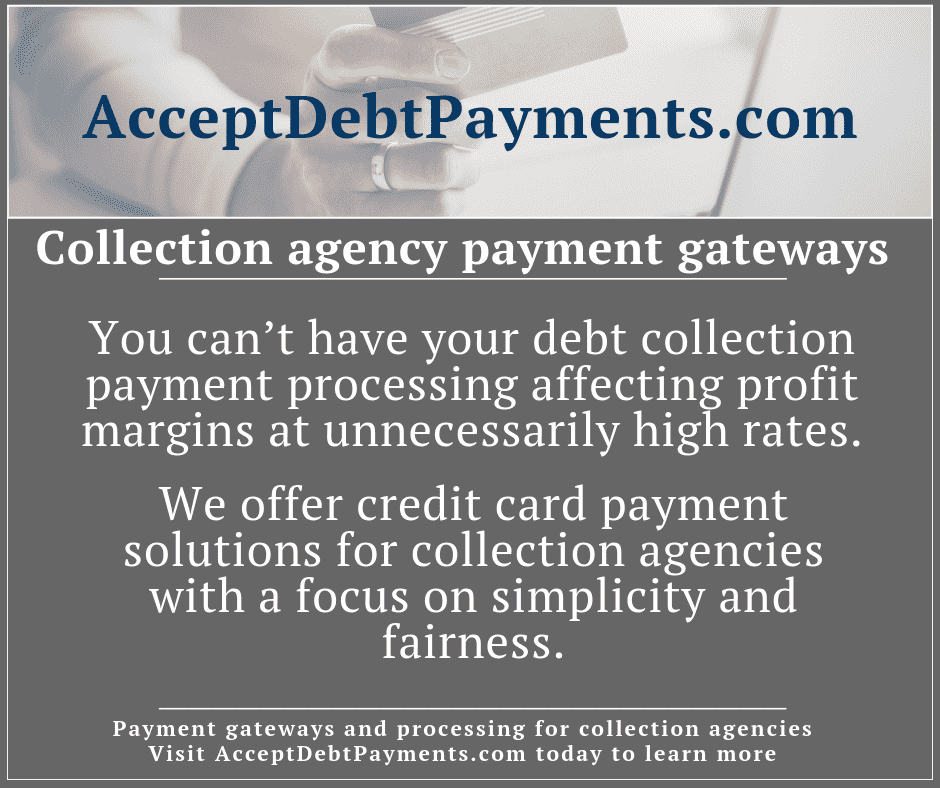 For your debt collection payment processing, you may want to make sure that customers can pay 24 hours a day. You don't want to be overly reliant upon having to guide a payment through over the phone or having to be present in person. Often, the more automated and seamless the debt payment process becomes, the better it is for all parties involved.
One of the most effective ways of facilitating simple debt collection is to allow customers and debtors to pay on your existing website- even if your site is not "e-commerce friendly."
With us, you can add simple "pay here buttons" that other ways you can collect debt payments on your existing site. Collecting debt payments by credit card doesn't have to be difficult. In fact, it can be easy.
Easily accept debt payments by phone
We understand that many collection agencies, especially small home-based businesses want a simple, easy to implement, way of accepting credit card payments by phone. We can help with an easy-setup "virtual terminal" where you and your staff can enter cardholder data in a simple, safe and secure manner and provide the reporting you need in order to manage your business. If you need physical terminals where clients swipe payments and print a receipt that's something we can provide as well.
Debt collection payment processing software integration
Do you already have a website or customer management system in place? Our gateway services integrate very smoothly with many different software systems. Here's a small overview of the various platforms we can help you process debt collection payments from:
Weebly
Custom software
CRM's like SalesForce, Zoho, etc.
The list above includes some of the more popular software and website platform alternatives. However, it's not a complete list. If your platform is not listed above, please get in touch. More likely than not, we'll be able to offer a payment gateway solution that will give you the debt collection payment processing capabilities you need, at a rate that preserves your profits.
Paying too much for debt collection credit card processing?
When it comes to debt payments, there's already cost involved in retrieving the debt itself. It can take hours to follow up on any issues, contact customers, ensure that payments are correct, etc. Having to pay too much for debt collection payment processing is not a luxury most can easily afford. What it comes down to is that processing credit card payments when collecting debt really doesn't have to cost a fortune.
If you're curious whether we can offer you high-risk debt collection merchant services at a better rate than you're currently paying, please get in touch with us here.
AcceptDebtPayments.com is here for your debt collection payment processing needs
At AcceptDebtPayments.com, our mission is simple. We want to assist debt collection companies, regardless of size, with powerful, efficient, straightforward credit card processing and payment gateway integrations. We believe that debt collection payment processing can and should be, easy and simple to manage.
Contact us today and let's talk about your business and your payment processing needs. We'll find the payment gateway solution that will work for your unique business and your business model. Get in touch with us today! We look forward to helping your business successfully accept credit card payments for your debt collection purposes.