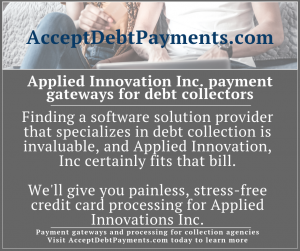 At AcceptDeptPayments.com, we want to help your agency have the best chance of success. We do this by providing simple and affordable credit card processing options for your collections business. Additionally, we work hard to highlight software and systems that could benefit your collections agency; one of those software systems is Applied Innovation, Inc.
We believe that any debt collection business deserves accurate and useful information on their processing and software integrations – upfront. Finding software that works for you is only a benefit if you can easily accept payments through it. This is why we make sure to highlight debt collection software that is easy, fast, and affordable to accept credit card through. If you need a payment gateway and merchant account that not only allows debtor's payments but also works perfectly with your Applied Innovation software, we can help.
If you've been operating in the debt collection agency for some time, you no doubt have met some real challenges you've needed to overcome. There's a great deal of software and credit card processing options accessible for debt collectors, but this wealth of alternatives can become overwhelming- and finding affordable payment gateways can be hard. This is why we focus on the practical and useful elements of the different tools available to you, and how you can benefit from them. Below we discuss the various solutions that Applied Innovations, Inc has to offer and how we make it easy for you to accept credit cards.
Why choosing the right software is crucial for your debt collection agency
Revisiting the basics is always useful, even if it may seem a little obvious for some of you. We help debt collectors across a variety of unique debt collection niches and we know the ins and outs of helping your agency accept credit cards.
We often help debt collection agencies to re-establish their ability to accept credit cards online, in-person, and over the phone, after they've gone through the painful process of having their merchant account shut down, or having excessive reserve funds held. This is an all too common, and unfortunate, consequence of running a high-risk business without the right advice upfront. However, it doesn't need to stop you from successfully running your debt collection agency over the long haul. If you are "stuck" and need help with your collections agency's ability to take credit card payments, let us help.
High-risk software and solutions that help you process debtors' credit card payments
While software solutions like Applied Innovation, Inc., are available to you as a "high-risk business", there are many popular and familiar solutions that are, unfortunately, unavailable. Payment alternatives like PayPal and Stripe, for example, are often not ideal solutions for you. In fact, you might very well find that you're on their list of prohibited business types (check all providers terms and conditions carefully before signing up). This is an issue that often happens with software solutions as well.
Our expertise at AcceptDebtPayments.com is in high-risk payment processing for debt collection agencies. This gives us unique insight into the platforms, software, and tools that work best for different debt collection businesses – regardless of size.
Questions? We can help
If you want to learn more about processing debtors' credit card payments or have had your merchant account shut down, contact us today. We look forward to talking with you about your payment gateway options. Additionally, if you have existing processing but are looking to save money, contact us any time for a free quote.
Applied Innovation, Inc. offers specialized solutions to debt collectors
Finding a software solution provider that specializes in debt collection is invaluable. Applied offers four primary solutions that are custom made for debt collection agencies, from small to large scale organizations.
Solution 1: ClientAccessWeb
The ClientAccessWeb solution is Applied Innovation's flagship product. It provides you with an excellent reporting system that allows you to save both time and money. At the same time, you can easily manage what information your clients see. This is an especially useful feature for third-party debt collection agencies.
Solution 2: Papyrus
The Papyrus solution is a clever and very extensive document management system. With it, you'll have a much easier time finding files, filing documents, retrieving or delivering reports, and more. This solution is especially useful when working in collaboration with ClientAccessWeb, as you can direct statements into your clients' accounts.
Solution 3: PayStream
Applied Innovation, Inc.s' PayStream solution is a very useful virtual collection tool. It supports PIF, SIF, partial and recurring payment plans. In fact, they argue that with their virtual collector, you can accept "repayment arrangements at a fraction of the cost of a live collector" – not bad! However, the main benefit remains that PayStream is compatible with our collections friendly NMI and Authorize.Net accounts. This enables us to provide you with our painless, stress-free credit card processing – giving you the options to accept debtor's credit card payments online, by the phone, or in person.
Solution 4: GreenLight
GreenLight is a fascinating solution, as it allows you or your front line your collectors to get authorizations while customers are on the phone. You can achieve this by sending an SMS or through email. Greenlight enables you to get instant approval on agreed debtors' payments via text- this is a really handy feature.
Process payments for your debt collection business while using Applied Innovation, Inc.
If you're ready to start accepting credit card payments for your debt collection agency, please get in touch with us. We'll help you integrate credit card processing with your Applied Innovation solution. This will give you the best of both worlds – specialized debt payment credit card processing, and specialized software. If you need help, don't worry. We can help. Simply click the "start button" below, or contact us here. We look forward to helping your business grow!