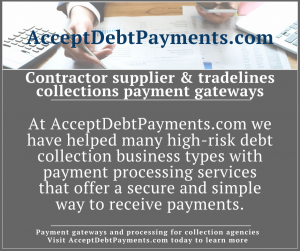 Finding a trustworthy payment gateway is a must-have when you own a contractor supplier or trade line collection agency. However, your industry is considered 'high-risk,' and therefore, it can be tricky to find a payment service that will offer you an easy and cost-effective way to process debtor payments by credit card.
Note: for the purposes of this article, when we refer to "trade line collections," we mean those agencies that collect B2B debts from tradesmen that owe their suppliers. Tradelines, as a description of line-item details on a CBR are different.
At AcceptDebtPayments.com, we have helped many high-risk debt collection businesses with simple and secure payment processing services. With us, you don't have to worry about your payments. This means that you won't need to invest unnecessary amounts of time into processing and can instead focus on making your business a long-term success.
Our payment gateway software platform integration assistance is invaluable for many contractor suppliers and trade line collections businesses. We work with a wide range of small and large debt collection businesses. If you're looking for a simple way to ensure that your site can accept and process credit card payments, be sure to get in touch with us today.
Why high-risk merchant services are critical for contractor supplier collections agencies
Contractor suppliers and trade line collections companies have, somewhat unfairly, been given a bad reputation over the past few years. As a result, you may find that some payment gateways will be reluctant to work with your company.
Even if you do find an online merchant service provider, you will often find that they provide a service that isn't well-suited for your /trade line and contractor collections needs. In fact, some discover that they are subject to unnecessarily high processing fees.
Since your business will need to accept online debtor payments 24/7 to prosper, your website must feature a robust and efficient payment processing system. Ideally, this should allow your site's visitors to be able to make payments in a quick, easy, and safe manner.
With our high-risk payment gateway services for your online activities, you'll be able to carry out your operations efficiently and rest easy knowing that you can take payments around the clock. So let's take a look at how you can ensure that you are getting the perfect payment gateway for your collections agency.
Find the right gateway for your contractor supply collections business
We offer specialist merchant services that can assist debt collection high-risk businesses in receiving online payments safely and securely. This means that we are on hand to help you integrate an online payment gateway. We also offer a service that can assist in dealing with card payments over the telephone.
Trying to find a suitable payment gateway for your contractor supplier collection company can be frustrating. However, we have a great deal of experience in finding payment solutions that are both cost-effective and easy to manage.
Even if you are unfamiliar with payment gateways, we can walk you through the main factors to consider when implementing this feature to your online services.
This means that you can take advantage of a payment service that suits your business model perfectly. Nobody should have to deal with unresponsive and unnecessarily expensive payment processing. Get in touch with our team at AcceptDebtPayments.com, and we will show how easy it is to get started.
Site builders & software for contractor supplier debt collectors
To receive online payments, your brand's website needs to be capable of successfully integrating the merchant account software. This means finding and using a site builder who is willing to work with a contractor focused collections company or contractor suppliers that collect their own debts
Unfortunately, this can often prove to be problematic. Many site builders will include terms and conditions that prohibit high-risk companies from using their services.
However, we have put together an excellent shortlist of platforms and software that can be used to ensure that your online debt collection business can accept payments. If you are new to brands like Wix, WooCommerce, and WordPress, don't worry. We'll be on hand to walk you through all the pros and cons of using these software packages.
The main thing to remember is that we are here to help all contractor suppliers and trade line collections businesses get paid for all of their hard work. Do you want a cost-effective, secure, and reliable way to collect on debts? Then don't hesitate to get in touch with one of our team members at AcceptDebtPayments.com.
Start accepting debtors' payments for your contractor supplier company
We have hopefully shown you how simple it is for high-risk companies to enjoy a payment gateway that is efficient and cost-effective. Just because you run a collection agency doesn't mean that you have to suffer from a payment processing service that is unresponsive and expensive.
The process of choosing and implementing a payment gateway might seem daunting. But we want you to know that we're here to give you a helping hand.
We can show you that receiving online payments doesn't have to cause you unnecessary headaches. Our team is waiting to hear from you, so please contact us at AcceptDebtPayments.com.