Getting the right payment gateway can be a challenge for debt collection agencies. However, we can assist debt collectors with payment gateways for supported industries. No matter whether you run a smaller home-based collection agency or a large debt collection company – we can help. At AcceptDebtPayments.com, we want to make managing online and phone payments more straightforward and more cost-efficient. As such, we want to give you some clear information as to our recommended payment gateways and supported industries.
Over the years, we've gained invaluable experience and insights into the process of finding payment gateways that work for your industry. What you might not be aware of is that even small distinctions within your industry can make a difference as to what payment gateway will work best for you. In other words, we can help you find the best payment solution by not only looking at the possible payment gateways but also the supported industry specifics. All this will help make it possible for you to effectively collect payments from debtors 24/7 through an online payment gateway, or over the phone.
If you specialize in collecting payments for specific industries, we can help narrow down what payment solutions might work best for you. There is a wide range of debt collection industry niches; however, not all are supported. To give you a quick overview of whether we can help you, we want to outline the supported industries that we can provide with a payment gateway.
AcceptDebtPayments.com supported industries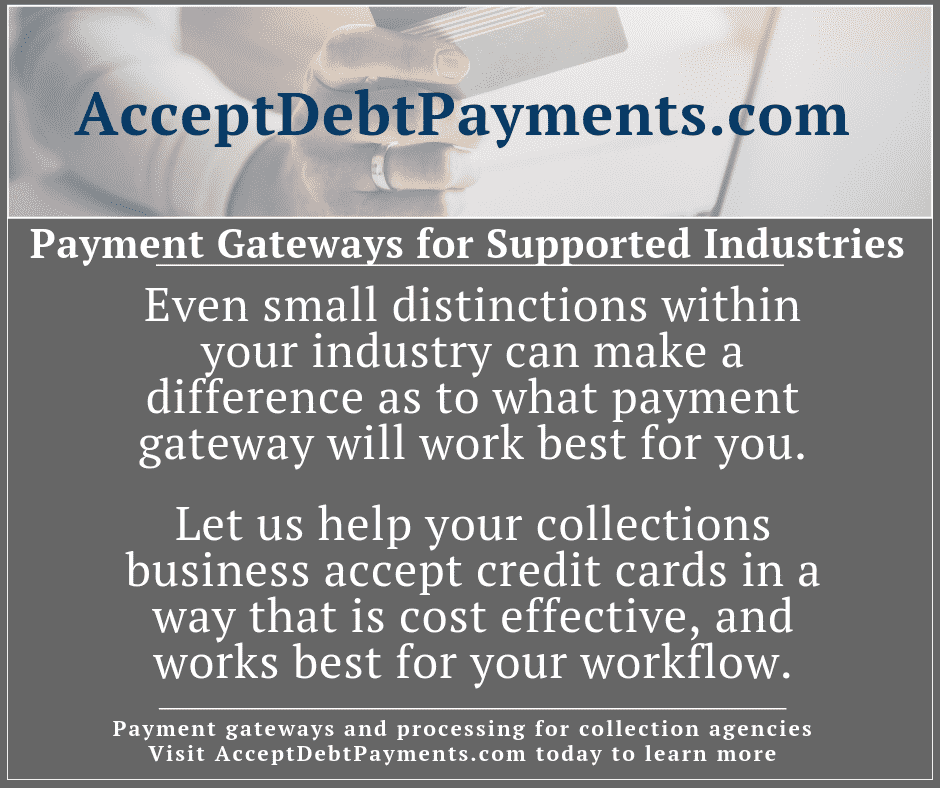 For us to offer the best level of support, recommendations, and advice for cost-efficient and easily managed payment processing, we can't cater to all debt collection agencies. The collections sub-industries we provide payment gateway and processing solutions to include the following:
Legal judgment collection
Third-party debt collectors
Accounts receivable
Contractor supplier/tradelines collections
Auto collections
If you specialize in debt collection for any of these industries, we'll be able to help pair you with the best possible payment gateways.
One on one support and payment gateways that fit your supported industry
At AcceptDebtPayments.com, we want to make sure we not only pair you with the ideal payment gateway for your industry type. We also want to ensure that you get the support you need to thrive.
By using AcceptDebtPayments.com, you can rest assured that we set up your debt payment processing solutions in a way that's both cost-efficient and easy to manage.
Payment gateways, options, and processing flexibility
If you operate in one of our supported industries, we'll be able to provide you with a payment gateway and processing alternatives that give you both options and flexibility. We are intimately familiar with a wide range of platforms and software that work for debt collection companies. This allows us to set you up with a smooth, intuitive payment processing solution.
Set up a pay debt here button easily on almost any website – we can help!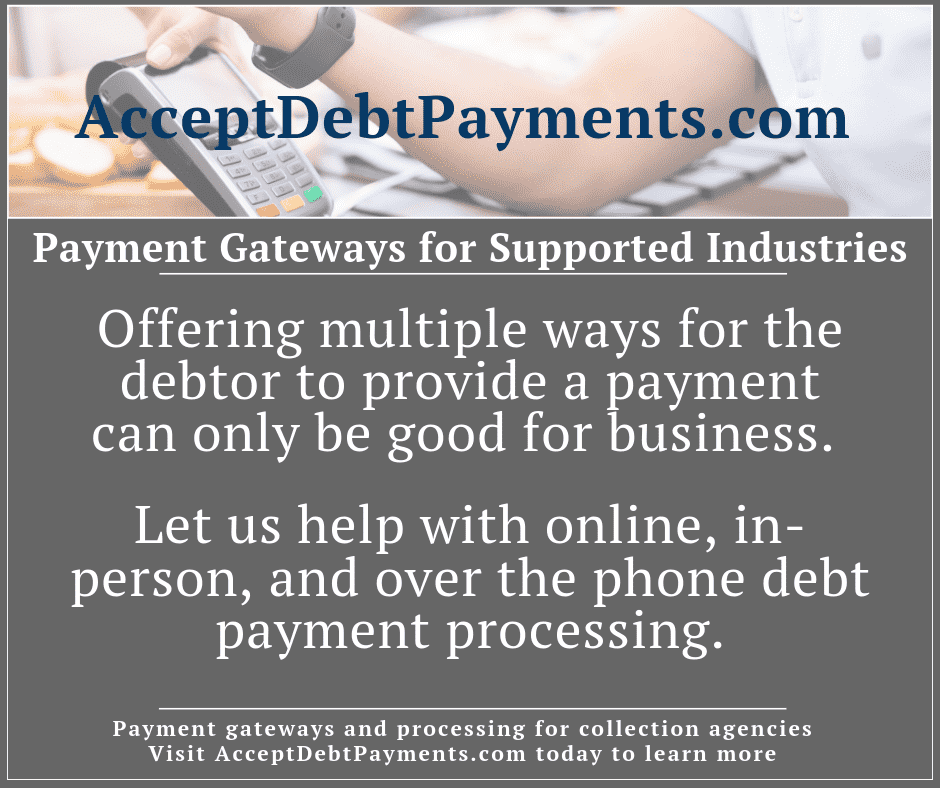 Over the last few years, people have become very familiar and comfortable with making credit card payments online. The reason why online payments are increasing in popularity is simple enough – it's convenient, stress-free, and straightforward.
The same can be true for your debt collection process.
Having a "pay your debt here button" is undoubtedly a great way to take credit card debt payments online. This is a popular feature in e-commerce and is an equally accessible route for your debt collection website.
A pay here button is an excellent, intuitive way of making it easy for the debtor to submit payments.
However, offering online payment processing as an option doesn't mean you should limit yourself to only one payment method.
Over the phone debt collection via physical or virtual terminals
Offering multiple ways for the debtor to provide a payment can only be good for business. At AcceptDebtPayments.com, we can pair you with a payment gateway that also supports phone payments. This allows you to offer online, in-person, and over the phone debt payment processing.
With the right gateway for your business, you'll be able to set up a virtual terminal that you can use to process debt payments online- quickly. This gives the debtor a means of paying off their debt in a convenient way. You'll simply access the virtual terminal through a browser and punch in the credit card details provided over the phone by the debtor. It's basically the same process with a virtual terminal as with a physical terminal, although many still prefer the simple automated receipt printing provided by physical terminals like those made by Ingenico, Verifone, or Dejavoo.
Let AcceptDebtPayment.com make processing cards affordable and straightforward
As a debt collection agency, money is your business. It's our business to make the processing of funds as affordable and simple to manage as possible.
We want to make sure that you don't spend more than necessary on processing fees and transaction fees. Are you curious whether we'll be able to find a solution that will be more affordable for your business? Contact us here for a quote.
When it comes to processing payments online, in person, and over the phone, if you run a collection business in one of our supported industries, we're confident that we can find the gateway that works for your unique business.