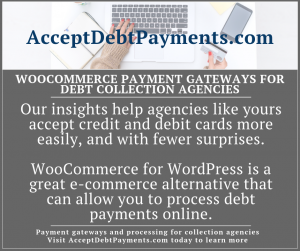 We offer payment gateways that work perfectly with a wide range of e-commerce software and platforms. Our payment solutions are easy and affordable – and available to start-ups and larger established collection agencies.
We have a straightforward mission when it comes to our work: give our clients the best chance of success. In that pursuit, we wish to provide you with some information upfront about what platforms and software will work best for you. We've found that WooCommerce is an excellent e-commerce software that works great for collection agencies.
We aim to give you valuable expert insights and help you choose the credit card processing platform and software needed to accept credit card payments.
If you've already been processing debt payments and you've been running a debt collection agency for a while, you've likely come across a few hurdles. Ideally, we hope to give you some insights that will allow you to easily accept credit and debit cards for debt payments going forward.
This is why we're covering WooCommerce: WooCommerce for WordPress is a great e-commerce alternative that can allow you to process debt payments online using our payment solutions.
The value of choosing the ideal software for your collection agency website
Going over the fundamentals now and again is very valuable even if it might seem straightforward to some. We assist both large and small collection agencies with their debt payment processing issues – we also support home-based agents. A substantial amount of the processing challenges business owners experience is due to breaching the Terms and Conditions (T&Cs) of the various platforms, carts, and e-commerce software they use.
If you're experiencing online card payment processing issues, we'll be able to help you accept online payments again. If you are new, these problems can be avoided entirely by having the right information upfront. This is because businesses that deal with debt payment processing are classified as high-risk. As a result, it's crucial to use the right gateways, software, and even shopping carts from the start.
You need high-risk friendly processing and payment software for your debt collection agency
There can be many reasons why businesses classify as high-risk. That said, for the most part, the consequences remain the same. One of these consequences is that more popular payment solutions like Stripe or PayPal become generally limited, if not completely inaccessible. Another result is that many site builders and platforms will no longer be able to offer you their services. This is because you're likely to find your business on the "prohibited business list(s)" of the different the site builder or software.
As a high-risk business, your debt collection business won't have as many options available or the same freedom as other businesses might – at least when it comes to choosing merchant service providers. Unfortunately, not all processors will be able to offer you satisfactory service. That's because they're not as familiar with scenarios that are commonplace for high-risk businesses, such as high chargeback ratios.
However, at AcceptDebtPayments.com, we offer the expertise you need to successfully process high-risk payments online – for the long run. We're very familiar with the gateways that will work for you, as well as how to set them up correctly for your unique business. At the same time, we know exactly what platforms and software will work best for debt collection businesses. If you're looking to accept online debit and credit card debt payments for your agency, get in touch with us today. We're always happy to chat about your business' needs and provide a free quote.
Why debt collection agencies choose WooCommerce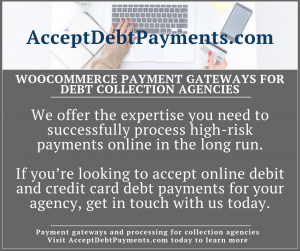 WooCommerce is an excellent e-commerce plugin for WordPress that allows debt collection agencies to accept and process payments online easily. However, all platforms and carts for debt collection businesses need to connect to a high-risk friendly payment gateway. We can set it all up for you and make sure the gateway runs smoothly so that you can use WooCommerce for your debt collection agency's debtor payments.
WooCommerce is a great WordPress e-commerce plugin, and it's open-source – just like WordPress itself. This makes it much easier for collection agencies to make full use of its e-commerce features – compared to many other e-commerce solutions. The ability to run your debt collection agency using WordPress itself is another benefit of choosing WooCommerce. It makes it very straightforward to create, maintain, and run a professional debt collection website without any serious coding experience.
While WooCommerce is high-risk friendly, it does need to be integrated with high-risk processing. If you need help integrating a payment gateway for your WordPress and WooCommerce debt collection website, we're happy to help. Simply contact us today. We'll provide you with, and help you integrate, a new collections friendly payment gateway for WooCommerce in no time.
AcceptDebtPayments.com processing for WooCommerce debt collection websites
At AcceptDebtPayments.com, we work towards a single goal: making online payment processing simple and easy to manage for debt collection agencies. With our expertise in both WooCommerce and debt collection processing, we're in a unique position to help you achieve this. If you need any assistance with your online debt payment processing or want to know whether we can offer you a more affordable processing alternative, please get in touch with us here.
Are you ready to start accepting credit cards for debtors' payments? Or are you looking to save money on your existing credit card processing? We can help! Simply click "Start" below or contact us here.