Many debt collection agency owners who collect on delinquent automobile loans have come across excessive challenges while finding a payment gateway that works for their agency. Car debt collection business owners often find that most merchant services available to them come with unnecessarily expensive transaction fees or unhelpful support – not to mention that the gateways are often difficult to manage. We don't believe this is right, which is why we specialize in offering payment gateway assistance for a wide range of debt collection agencies. With our expertise in automotive debt collection processing, we'll be able to help you and your collection business accept debtors' payments in no time.
Are you experiencing issues with managing your payment gateway? Or are you facing unnecessarily high rates for processing debtors' auto payments? Maybe you're simply looking for a new high-risk friendly payment gateway for your collections site? Contact us today for a free quote! If you want to know more about accepting payments and payment gateways for automobile collection agencies, please continue reading below.
High-risk merchant services are crucial for defaulted car loan payment collections
There are certain challenges you'll need to overcome when you run an auto debt collection business. Chief among these is finding and setting up payment gateways and merchant services. This is because you run what's known as a high-risk business.
That said, this doesn't need to shoehorn you into poor deals where you must pay more than necessary in order to accept debtors' payments. Nor does it mean that you can't use excellent payment gateways that are easy to manage – and perform consistently and reliably. In fact, we can help you set up a gateway that helps you process payments in person, online, or over the phone in a way that boosts your bottom line.
Third-party collection on defaulted auto loans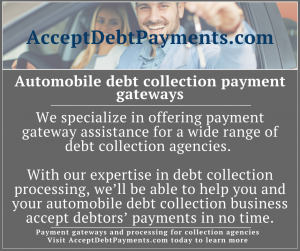 Accepting debtors' payments for defaulted auto payments on behalf of a third party can be a challenge. Even though it's possible to sign up for more standard merchant services, chances are that they won't be beneficial for you in the long run. Generally speaking, the processing fees will be higher than necessary, and they won't be familiar with common challenges faced by high-risk businesses. Therefore it's important for third-party auto debt collectors to use specialized merchant services.
The good news is that if you're collecting auto debt payments on behalf of a third party, we can help.
It's far too common for debt collection agencies to start processing payments without the right payment gateway, or without the right setup for their payment gateway. With AcceptDebtPayments.com you're in good hands. We know payment gateways and the debt collection business intimately, and we'll set you up with the gateway that's right for you and your third-party auto debt collection business
Improve your automobile debt collection business with the right software
We want to help make it easier for debt collection agency owners to run, manage, and grow their business. Our chief specialty is in providing payment gateways and processing for debt collection businesses. However, we also recommend software, carts, and platforms that are ideal for debt collection companies.
Do you need recommendations as to what site builder and e-commerce software are most compatible with your defaulted auto payments debt collection business? Or maybe you're looking for a CRM or other software that's specifically tailored for debt collection agencies? Get in touch with us today. We can help recommend software and platforms that will work for you and will make it easy to accept debtors' payments. In fact, we can set it all up for you – giving you the peace of mind that comes with knowing that everything will run smoothly.
Accepting payments for automobile debt collection
Are you looking to start collecting on third-party defaulted automobile payments, either over the phone, in person, or online? We're here for you. We can help you find the best solutions for your unique business, with compatible software and, more importantly, a payment gateway that will help boost your bottom line. We'll provide you with an affordable, easy to manage gateway that's ideal for your automobile debt collection agency. Simply contact us here or just click "start" below.
Using a gateway and processing debtors' payments is no longer difficult, unnecessarily expensive, or lacking in genuine support. Contact us today and we'll get to work helping your debt collection business grow.