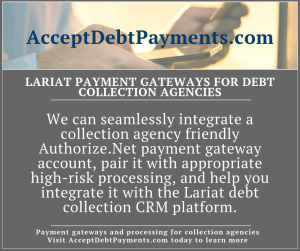 Using the right platform and software can make a world of difference for any business; this is especially true for debt collection agencies. At AcceptDebtPayments.com, we offer both new and established collection agencies the ability to quickly, and affordably, set up a payment gateway that works perfectly with the Lariat CRM for collections companies.
We can seamlessly integrate a collection agency friendly Authorize.Net payment gateway account, pair it with appropriate high-risk processing, and help you combine it with the Lariat debt collection CRM platform.
Our goal is a simple one; we want to make it as easy and affordable as possible for debt collection agencies to accept credit card payments from debtors. When it comes to debt collection agencies, knowing what platforms and software work best for accepting credit cards is part of what we do. For us to better help, we provide upfront information on what will work best for you. With the right information from the start, you'll be able to avoid headaches and unnecessary complications down the road. This is why we want to make sure you know about the Lariat software and CRM for collection agencies.
Choose the right software for your debt collection agency
Accepting payments is much easier when you choose the right software and Customer Relation Management systems from the start, especially when it comes to the debt collection businesses. We help collection businesses across a wide range of specialties with their debt collection processing issues. In our experience, many of the troubles debt collection agencies face when committing to a software system or CRM is that they later find out they've inadvertently breached the Terms and Conditions of their software provider. While we're happy to say we can find solutions that allow you to accept online debt payments again, it's always better to avoid these issues entirely from the beginning. With debt collection friendly software, you can grow your business and avoid negative surprises.
Collection agencies need specialized software and platforms
When you run a debt collection company, you're operating within a high-risk industry. While many factors determine whether or not a business classifies as high-risk, the result generally is the same. It often means that you won't have as many software and platform options available to you. Unfortunately, it also means that there are fewer merchant service providers available. For example, popular payment methods like PayPal and Stripe are sometimes either limited or inaccessible to you. (Always read a providers terms and conditions yourself to determine if you are within their acceptable use policies).
In short, regardless of the niche in which your collection agency operates, you need software and processors that specialize in high-risk businesses. Otherwise, you risk being on the "prohibited business list(s)" of your providers, which can cause many difficulties down the line.
At AcceptDebtPayments.com, we specialize in high-risk payment processing and can provide the expertise you need. We're very familiar with the platforms and gateways that work for debt collection agencies. If you need help integrating a high-risk friendly payment gateway for your debt collection agency and Lariat CRM, please contact us today.
We look forward to walking you through your options and providing a free quote.
What makes Lariat great for debt collection businesses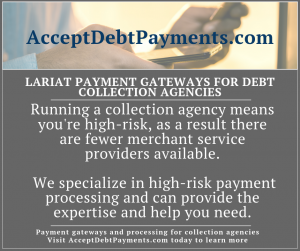 Lariat stands out as a CRM platform because it is designed for collection agencies. This makes them stand out from the crowd. It also makes them very open to integrating with the payment gateways you need to make everything fit together. We'll be able to set you up correctly for debt collection payment processing and integrate the payment gateway that will work best for your unique business.
Lariat boasts some fantastic features that are what you need for the routine activities of running your debt collection agency. You can run templated or fully customized reports that you can either export or schedule for delivery. The Lariat platform also works very well on all devices as it's entirely cloud-based – all you'll need is an internet connection. There's also plenty of payment features, such as payment plans, and it also supports ACH payments in addition to credit and debit cards. Lariat makes it possible for you to utilize predictive dialing when needed, though you'll need to set that up through a third-party.
If you choose Lariat for your debt collection company, we can integrate the payment gateway you need at a processing rate that preserves your margins. The platform supports a wealth of payment processing options out of the box. However, ideally, you want it set up correctly for high-risk processing at the back-end. Making sure everything is working together seamlessly, and ensuring that you have the right payment gateway, is where we come into the picture.
Start processing with AcceptDebtPayments.com for your Lariat CRM and debt collection website
Regardless of whether you're running a home-based collection agency or a larger debt collection company, we'll be able to help you integrate a debt collection payment gateway will work with the Lariat CRM. With the right gateway, you'll be able to process debit and credit card debtors' payments on Lariat in no time. Simply contact us here, and we'll be able to give you a free quote and help you integrate the best gateway for your business with Lariat.
Ready to start accepting credit cards for debtors' payments on Lariat? Or are you looking to save money on your existing credit card processing? We can help, simply click "Start"!