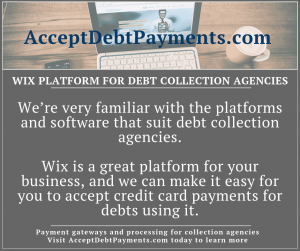 Our goal is simple: to give you a better chance of success by providing easy to use, cost-effective, credit card processing options for your collection agency.
We believe that you deserve to have accurate and useful information upfront, which is why we want to discuss some platforms that will suit your business and allow us to set up effective payment processing. One of these excellent platforms for debt collection agencies is Wix.
We want to let you know what platforms and software will work for your industry type, giving you valuable expert insights before you commit to a website platform. If you're a veteran of the debt collection industry, you've no doubt come across more than your fair share of challenges to overcome. It's far easier today than it once was to find a suitable platform where you can launch your debt collection agency. We'll discuss why Wix is a great platform for your business and how we can make it easy for you to accept credit cards from debtors on Wix.
The importance of choosing the right platform for your debt collection website
It might seem obvious to some of you but it's essential to go over the basics now and again. We help many debt collection agencies, from home-based debt collection businesses to larger agencies, with their online processing issues. Very often, processing problems stem from inadvertently breaching the Terms and Conditions of the various software and platforms agency owners use. While we make it possible for collections companies to process payments again successfully, these issues can be avoided entirely. The reason why it's so important to have the right platform from the outset is that debt collection businesses are classified as high-risk.
Being high-risk impacts what processing and software you can use
While there are many reasons why different business types classify as high-risk, the consequences remain largely the same. For one, payment solutions like PayPal and Stripe become generally limited, if not entirely unavailable. Secondly, a large number of site builders and platforms become inaccessible. This is a consequence of "the prohibited business list(s)" that most site builders have- also known as "acceptable use policies."
Unfortunately, the same goes for merchant services. As a high-risk business, your debt collection agency will not have the same freedom and wealth of options when it comes to merchant service providers. This is because you need payment processing services that specialize in catering to high-risk.
At AcceptDebtPayments.com, we have the expertise in the high-risk payment processing field you need. We're intimately familiar with the platforms and software that suit debt collection agencies. If you need to start accepting credit card debt payments for your agency, please contact us today. We're happy to talk through your options and provide a free quote.
Why Wix is a fit for many debt collection agencies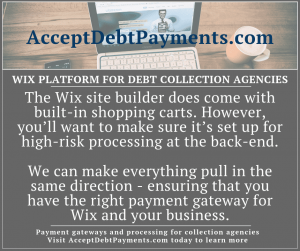 From our experience, Wix is a decent choice for debt collection agencies. Wix makes high-risk credit card processing somewhat straightforward – at least when compared to other drag and drop builders. We can set you up with excellent payment gateways that work smoothly for Wix-run debt collection agencies. Their site builder is very robust, and it's generally a great fit for high-risk sites – when using the simple workarounds that we have learned over the years.
The Wix platform boasts many great features. At its core, it's a template-based site builder that makes it simple for site owners to create great-looking, professional websites without coding expertise. This also allows you to avoid additional costs, since you won't need to hire a developer, for example. Wix also comes with plenty of plugin options you can use to expand on the functionalities and features of your site. This gives you the power to improve and maintain your online debt payment collection service.
Should you choose to use Wix for your debt collection agency, we can integrate the payment gateway you need. The site builder does come with built-in shopping carts that work great for some business types. However, you'll want to make sure it's set up for high-risk processing at the back-end. A simple addition in order to make Wix high-risk friendly is Foxy.io, which is a simple addon. Making this all pull in the same direction, and ensuring that you have the right payment gateway, is where we come into the picture.
Processing from AcceptDebtPayments.com for your Wix debt collection website
Are you planning on launching your large or local home-based debt collection agency on Wix? Then we can help you process credit card payments. If you already have your Wix debt payment website up and running, but would like to see if we can improve your payment processing, get in touch with us here.
At AcceptDebtPayments.com, we have one goal: to make online payment processing simple and easy to manage for debt collection agencies. With our experience and familiarity with Wix, we're uniquely positioned to help debt collection agencies with Wix websites. If you need help with your online debt payment processing, or you're curious whether we can provide you with a more affordable alternative, you can always reach us here.
We look forward to offering debt payment processing that will enable you to grow and profit. Credit card processing doesn't need to be more expensive than necessary. Nor does it have to be challenging to manage. With AcceptDebtPayments.com, you're in good hands.