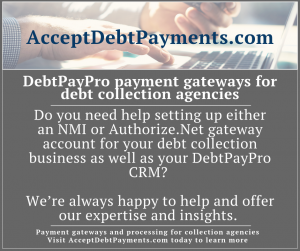 The right platform and software can make running your debt collection business a lot easier. DebtPayPro is popular business software that can make a big difference in your day-to-day activities. Below, we discuss how it works, what you can gain, and how we will provide you with a payment gateway that makes it easy to accept debtor's payments using the DebtPayPro CRM. We offer established and start-up debt collection agencies the means to easily and cost-effectively set up payment gateways that work with their DebtPayPro software.
We can smoothly integrate a debt collection friendly NMI or Authorize.Net payment gateway account with appropriate high-risk processing for your DebtPayPro platform. This will allow you to fully explore the many great features that are tailor-made by DebtPayPro for debt collection agencies, regardless of size.
At AcceptDebtPayments.com, we work to achieve one simple mission – making credit card processing both simple and affordable for debt collection agencies. Knowing what platforms and software work for the collection of debtor payments is critical in order to make the right choices. This is why we focus on providing upfront information here on our website and through free phone and email consultations. Once you know what works, how it works, and how to process payments for your debt collection business, you'll be in a much better place in terms of growth and profitability. Not to mention that with the right information from day one, you'll steer clear of avoidable complications and issues down the road. With that in mind, let's discuss the value that accepting credit cards through DebtPayPro can provide for your debt collection business.
Getting the best software for your debt collection agency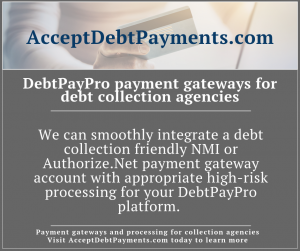 Accepting debt payments becomes much easier when you have the right combination of Customer Relation Management system (CRM) and website platform from the start. With the wrong software-platform combination, you might end up spending hours on a solution that doesn't actually allow you to successfully process credit and debit cards. The choice of platform and CRM is especially important for debt collection agencies, simply due to the fact that you're running a high-risk business.
Through our experience working with debt collection agencies across a wide range of niches, we often find that often debt collectors inadvertently breach the Terms and Conditions of the software and platform providers standard payment gateways. Not intentionally, many simply weren't aware that they were, in fact, a high-risk business. We're very happy to say that we were able to find solutions that allowed these debt collection agencies to process payments again. However, it's always better to get it right from the start.
Debt collectors need specialized software and platforms
When you own a debt collection agency, you run what the processing industry refers to as a "high-risk business." This usually means that you're going to need specialized software, platforms, payment gateways, and merchant service providers. Using providers that are not experienced in collections means you run the risk of "shut down" payment gateways, closed merchant accounts, and many other frustrations that can be avoided with the right advice upfront. This is where DebtPayPro comes into play, as a specialized debt collection agency specific CRM, and where we come in, as a provider dedicated to collections payment gateways.
Some features DebtPayPro can offer your debt collection agency
DebtPayPro allows you to use their software effectively, regardless of your business' size. It fits to scale in many ways and is a great option regardless of whether you're a smaller business of 5 people or a large company of up to 500 people. DebtPayPro offers loan consolidation features through its CRM in combination with effective marketing tools, like the ability to:
Record call logs
Keep track of customers and debtors
View settlement projections
Set up payment reminders
Implement email marketing campaigns
Process credit and debit card debt payments
You can also set up dynamic repayment options as well, displaying various options depending on the debtor in question. However, while the DebtPayPro CRM does allow you to process payments, it's important to set it up correctly in order to successfully process debtor's credit card payments. The great news is that DebtPayPro integrates very well with both NMI and Authorize.Net. Both are excellent debt collection processing-friendly payment gateways.
Are you looking for recommendations as to what website platform you can use for your debt collection business as well as your DebtPayPro CRM? Do you need help setting up either an NMI or Authorize.Net gateway account for your collection agency? We're always happy to offer our expertise and insights. We can also help integrate your payment processing for you and make sure everything is correctly set up in the back end. All you need to do is click "start" below or contact us here.
Process debtor's credit cards easily with AcceptDebtPayments.com and the DebtPayPro CRM
At AcceptDebtPayments.com, our goal is to make it as easy for debt collection agencies to process credit and debit card debt payments. Regardless of whether that's in person, over the phone, or online using software like DebtPayPro CRM.
We can easily set you up with the payment gateway you need to process credit card payments through DebtPayPro. Simply get in touch with us here for a free quote or click "start" below. We'll help you integrate the best DebtPayPro compatible payment gateway for your collections business, at a rate that is fair, and affordable.