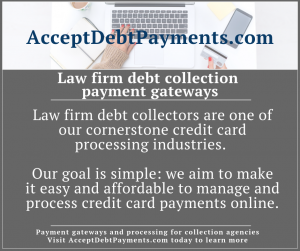 Finding a payment gateway can be hard if you are an attorney that specializes in debt collection or if you manage a debt collection business that specializes in legal debt. This problem is what we're aiming to solve by providing payment gateway help for a wide range of niche debt collection agencies. In our experience, we find that many come across challenges when trying to find the right software and platforms for their law firm. As a result, we also make sure to offer gateway integration assistance and platform recommendations that work for debt collectors. Accepting credit and debit card payments shouldn't be difficult to manage and maintain, and it certainly doesn't need to be unnecessarily expensive.
This is why our goal is simple: to make it easy and affordable to manage and process debt collection credit card payments online. Law firms that collect debt are one of our cornerstone credit card processing industries. If you manage a legal debt judgments collection agency, we want to give you some expert advice and provide some up-front tips that cover the basics of what you need to know about your industry in terms of processing debt payments online.
Do you suspect that you're paying more than necessary for your debt judgments collection processing? Or maybe you're looking for a payment gateway for your law firm's debt collection efforts? In either case, contact us for a free quote. We'll be happy to discuss our processing and the gateways we can set up for your firm or agency in more detail. For now, let's take a closer look at payment gateways for law firms and debt collection agencies.
High-risk merchant services are vital for your industry
If you've been in the debt collection industry for a while, you've no doubt had to overcome some tough challenges already. Chief among these challenges is at the core of running any business: processing payments. Finding payment gateways and merchant services that suit the debt collection industry is far from a routine exercise. While there are plenty of aspects that add up to make this such a challenge. The most common problem is that legal debt judgments collection businesses are classified as high-risk.
Finding out that you're running a "high-risk business" can be stressful. However, it doesn't necessarily mean you have to settle for more cumbersome merchant services than other businesses do. What it does mean is that you need to find merchant service providers that actually specialize in processing for high-risk businesses. Luckily, there are great payment gateways out there that are excellent options for your business. It's just a matter of finding the right combinations and integrating them properly for processing debt payments effectively. We can make sure that it all works together to improve your bottom line.
We provide law firm-specific debt collection merchant services and payment gateways that specialize in high-risk payment processing. We'll set you up with a gateway that makes it easy for you to collect payments via the phone, in person, or through your website. We can even provide you with a simple, intuitive, "pay your debt here" button. Law firm payment processing doesn't have to be hard, or complicated. For more information, contact us here or click "start" at the bottom of this page.
Find the right online payment processing for your law firm or judgement collections agency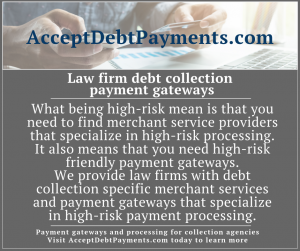 As a law firm that collects debt, there is one primary feature you want to keep an eye out for when looking for credit card processing – that the merchant service provider specializes in high-risk processing.
Even though most standard processors won't be able to offer you their services, it's still possible for you to sign up for a merchant service provider that usually caters to more common business types. Unfortunately, chances are that these providers won't actually work for you in the long run. While this certainly oversimplifies it somewhat, you're most likely to experience needlessly expensive transaction and processing fees. Similarly, the support you'll receive is likely to lack the expertise you're after. After all, they're not familiar with the regular challenges of high-risk business models, like relatively high chargeback rates.
Quite a few begin processing online debt payments without properly integrating a high-risk friendly processor in the back-end. This can cause all sorts of problems and challenges down the line. With us at AcceptDebtPayments.com, you're in good hands. Even if you're incorrectly set up today, don't hesitate to get in touch. We'll do everything we can to fix the issue as quickly as possible and get you processing safely and effectively. We'll set you up with a debt collection friendly payment gateway in no time. In fact, we can even integrate it smoothly with a variety of platforms and software. In short, with us, you won't have to worry about your debt payment processing anymore. We'll help you find a solution that provides you with the options and features you need to run your business successfully online.
The right site builder and software for your law firm collection business
Our goal is to make it easy for you to run your law firm debt collection agency. It's a simple goal, but the issues we solve can be complex. For example, we specialize in high-risk friendly gateways and credit card processing, but we also know which software and platforms work best for law firms that collect debts.
We won't spend too much time on this here, but you can see a quick overview of debt collection friendly site builders and platforms here. Alternatively, we're also available here if you want to get in touch right away to get started.
Accept debtor's payments for legal judgments and other debts
Are you ready to set up an online or over the phone payments for the collection of legal debt? Are you looking for a better and more cost-efficient way to process payments for your existing law firm debt collection agency? We're ready to help! We can pair you with the right services for local, home-based businesses or even large debt collection corporations. Simply click "start" below, or contact us here to start accepting payments with a more cost-efficient, easily manageable payment gateway for your law firm debt collection business.