It's not easy finding a suitable payment gateway when running a medical debt collection agency. That's why we specialize in providing payment gateway assistance for many different niche debt collection agencies. We don't believe that accepting debt credit card payments needs to be hard to manage, nor does it have to be unnecessarily expensive. This is why our primary goal is to make payment processing simple and easily managed for debt collection companies. To best achieve this, we specialize. Medical niche collectors are one of our preferred credit card processing industries. If you run a medical debt collection agency, we hope to give you some insights and cover the basics.
Are you paying unnecessarily high-rates for processing debtor's medical payments? Are you looking for a new payment gateway for your collections site? Get in touch with us today for a free quote! If you'd like to know more about payment gateways for medical collection agencies, please continue reading below.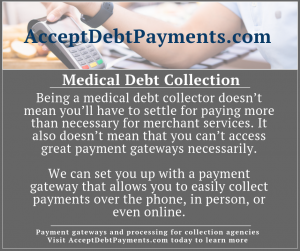 High-risk merchant services matter for your business
There are some difficulties to overcome when trying to find payment gateways and merchant services for debt collection businesses. If you've been in the industry for a while, you've no doubt experienced more than one challenge already. While there are many elements that might contribute to this, the most common one is simply that medical debt collection classifies as a high-risk business type.
However, being a high-risk business doesn't necessarily mean you'll have to settle for paying more than necessary for merchant services. It also doesn't mean that you can't access great payment gateways – ones that will allow you to process payments online and improve your bottom line.
We'll be able to provide you with the high-risk merchant services you need as a medical debt collector. We can set you up with a payment gateway that allows you to easily collect payments over the phone, in person, or even online through a simple "pay here" button. For more information, please feel free to get in touch with us here. Alternatively, you can simply click "start" at the bottom of this page.
Finding appropriate payment processing for medical debt collectors
Among the more important items you want to look out for when finding payment processing for your medical debt collection agency is that the merchant service provider is, in fact, a collections specialist.
While you might be able to sign up for more standard merchant services, the odds are that these won't do you any favors in the long run. This is oversimplifying it somewhat, but in general terms, you're likely to experience unnecessarily high processing fees, and often won't have access to the support you'll need – unless you choose the correct processing partner.
Unfortunately, too many agencies start accepting payments on their sites or by phone without setting up the right high-risk friendly processing on the back-end. However, with us at AcceptDebtPayments.com, you're in safe hands. We'll set you up with a gateway that's ideal for your medical debt collection payments. Not only that, it will integrate smoothly with a wide range of platforms and software. We'll help you find a solution with the options and features you'll need to run a successful online business website.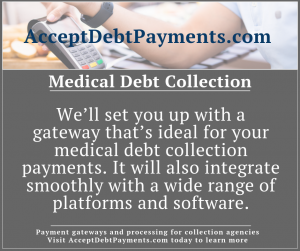 Optimize your business with a suitable site builder and software
As we mentioned earlier, our goal is to make it easier for you to run your medical debt collection agency. While we specialize in gateways and processing, we've also become very familiar with the software and platforms that fit your business type.
You can see a list of site builders and platforms that work for debt collectors here. If you have any questions or concerns about whether your site builder is a viable option, in the long run, you can contact us here. We'll be able to find alternative solutions if needed, and set up the payment gateway you need for your medical debt collection business.
Accepting debtor payments for medical bill collection
If you're ready to set up your first online or over the phone payment processing services, we're here for you. We can pair you up with the right services for a local home-based business or a large debt collection agency. If you're looking for a more cost-efficient, easily manageable gateway for your medical debt collection agency – we've got you covered. All you need to do is get in touch with us here or click "start" below.
While medical debt collection agencies have always found it difficult to connect with gateways and payment processing, that doesn't need to be the case anymore. Get in touch with us today and we'll get to work.